As some of you may already know, my grandmother was the one who taught me to sew and do all kinds of crafts. While I have a great story about learning to quilt, I can't remember any specific project with her for sewing in general. It just seemed to be a thing I always knew how to do.
And as a short schoolgirl in the 80's, I definitely knew how to alter and adjust all my clothes. Just like wearing a shirt she made for me was no big deal.
When I thought about today's topic, I remembered back to my Home Ec classes and the big sewing project we did, It had to have been 1984 and sure enough, I was able to find the pattern I chose to make.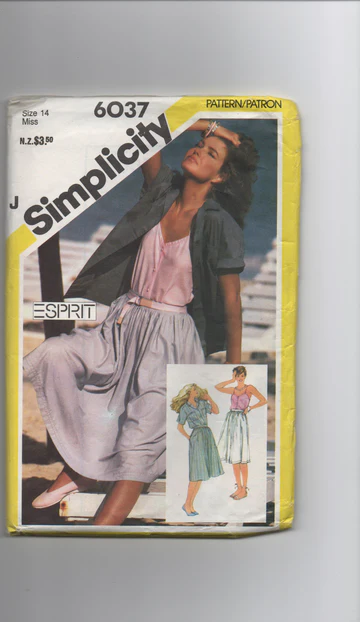 How typically eighties is this?? 😀 I remember my teacher being certain this was beyond my abilities and I should choose something easier. Easy be darned, I wanted something I could actually WEAR! So I made the shirt in a lighter grey cotton. I do remember my grandmother helping me a bit, but not near as much as my home ec teacher would have surmised. Besides, we had to do a fair bit in class and I managed quite well.
I also remembered I wore this shirt exactly once, as I didn't like the buttonholes. This turned out to be a lifelong hatred of making buttonholes, but in this case the pattern had them going horizontally. Ew.
The next year or so, I got my grandmother to make me the skirt in a natural muslin, I might have worn that twice. It was altogether a far too preppy outfit for me so I styled it with my bleached jean jacket with a tight fit and rolled up sleeves. A long strand of looped pastel blue pearls completed the look. It was radical, man.