For the 31 Day Blogging challenge the topic is "My machine". I have finally narrowed down my sewing machines to three, but I'll mostly talk about the main one I use.
My main sewing machine, the one I love and helps get me though my day, is the Brother PQ1500SL high speed machine, Yes, it is basically an industrial type machine, It is very similar to the JUKI TL-2010Q. In fact, I was going to buy the Juki, but went with the Brother.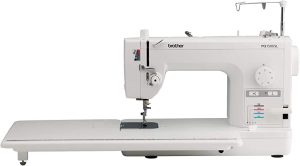 I had researched new sewing machines and new I wanted an industrial or high speed machine and no fancy stitches. As it happened, we were going to Ottawa for a conference, and there was a Juki dealer in Ottawa. We had an extra day and went to the Ottawa Sewing Center. They didn't have the Juki in stock, but the owner showed me the Brother and explained how it was very similar to the Juki, which I knew from Internet research.
It was also $400 cheaper.
Sold! And he would ship it home for me too, because there was no way we were taking it back on the plane with us.
This machine is SUPER FAST. And I love it because I sew very fast. It has a side load for the bobbin and the needle is pointed to the side, so those are the only things that I'm still not quite used to. It seems a little picky when I load a new bobbin and I have to test my stitches whenever I load a new bobbin. The tension is good and a rarely need to adjust it, unless I am having bobbin issues.
It does one stitch – a straight stitch. It does go in reverse, and I have used the walking foot for quilting, and also the free motion foot for quilting, It did not like my generic ruler foot and would not form stitches properly whenever I tried with the ruler foot.
It has a knee lift that I never use, the extension table is on it more than not, and the built in thread cutter is a new thing to me that I am loving.

I definitely recommend this to anyone who does a lot of volume sewing.
My second machine is a Bernina 440QE, at least ten years old. This is the one I did most of the FMQ learning on with the stitch regulator attachment,. Unfortunately, I was too hard on this machine sewing some very thick fabrics and wound up getting a shaft replaced. It hasn't been the same since, despite being to various repair people. It skips a stitch every so often, and no one can figure out why – despite being retimed and everything. I can live with it though.
My last machine is a Brother SC9500 Computerized Sewing & Quilting Machine which I bought from Fabricville the first time the Bernina went kaput and I had customers I needed to sew for. It is an inexpensive machine with plastic parts inside, even if it does sell for around $400. When I sew with it, it feels like I am using a toy. It's the machine I use to take to classes because it is lightweight. Unfortunately, I took it to a class in the backseat of my car without anchoring it and it fell over into the foot are and the bobbin winder post broke off. Ooops.

Otherwise, I just use it as a spare or for when the husband wants to sew something in another room. Given the skipping stitches issues with my Bernina, and my main machine is straight stitch only, I also use this one for the rare times I need to zig zag or any other fancy stitch. It is adequate, and I would recommend machines in this price range and build for people who aren't sure if they will stick with sewing or quilting. I can FMQ on this machine as well, but I definitely feel the difference over the above machines.